Most people tend to go on holiday to get away from it all. Whether is a water villa in the Maldives or a caravan in Wales, the objective is the same; to unwind, spend time with friends and family, and forget about the daily grind. And that's exactly what's it's all about.
When I go away for a short period, I don't take a laptop. What's the point? People who 'brag' about checking work emails when on holiday are not big or clever, they're missing the whole point. They may physically be on holiday, but their minds won't be, which defeats the purpose of going away.
Anyway, I'm starting to rant about a completely separate issue, so below is a list of travel equipment that I use:
Laptop:

As I said, I will only take a laptop away with me if I'm off for long periods of time. I own a Macbook Pro and absolutely love it. My Retina version is ultra-thin and ultra-fast, and is perfect for travelling without taking up too much room, sliding perfectly into the back of my camera bag. It's great for blogging, downloading/editing photos and watching TV/movies………just make sure you turn off any work email accounts if you do take a laptop!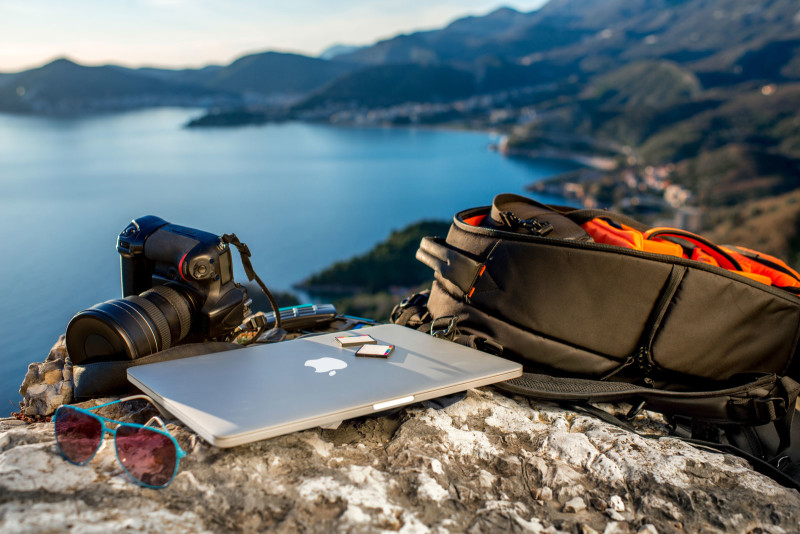 Laptop Cover:
A laptop cover is essential for projecting one of the most expensive pieces of personal equipment that you'll probably own, so you need to look after it when on the move. Recently I found a great cover from a company in Utah of all places. Its made from a heavy duty and undyed hemp basket weave canvas, and lined with a very soft recycled polyester fleece. Quite a unique, funky urban eco-friendly accessory.
A DLSR Camera:

A good quality camera is vital for capturing all of those travelling moments. Thanks to the digital age, such cameras are available for the fraction of the price they were a few years ago, and will provide even the most novice of users will exceptional images.
Personally I use the Canon 7D, an exceptional solid camera that feels great to hold, and takes amazing pictures. The depth of field is brilliant. If you're keen to take great travel photos then I'd recommend purchasing some additional lenses.
These aren't cheap, but I've purchased all mine secondhand to help justify the costs and have no issues with them. I take away with me my EFS 17-55mm lens for normal use, a 10-22mm wide-angle lens for landscapes and architecture, and my EF zoom lenses (70-200mm and 100-400mm, although the latter I only take when I know I'll photograph wildlife as it's a rather heavy lens).
Travel Tripod:

Originally I was always dubious about a travel tripod. Anything small enough to carry around with no bother would surely only be able to take the weight of a point-and-shoot camera. How wrong I was!
One evening when in Vietnam on a boat in Ha Long Bay there was an amazing moon lighting up the water and boats that I wanted to capture. I borrowed a tiny little tripod from a Canadian lady. To my surprise this robust gadget not only took the weight of my Canon 7D, but also extended to over a metre in height, and could then be folded back to a very compact size. Perfect for what I needed. The model was RT8000 by Giottos (although the latest model is RT8150) and I would certainly recommend purchasing one.
Travel Adaptor:

Travelling light isn't easy when you don't know what adaptors to take. Some countries in Asia actually have varying plug sockets in different hotels, which can be frustrating. I purchased a handy little adaptor that I now take with me.
It's one adapter with four options of integrated push button plugs that extend out the required plug. It covers over 150 countries and the adapter head also accepts all four major plug types (Euro, UK, Australia and USA types).
Note that the instructions state that it's not suitable for hair dyers, only low voltage products. If you shop around you should be able to get this for £10.
Multi-Tool Kit:

I usually take with me a multi-tool kit such a Leatherman, which includes a bit driver, scissors, wire cutters, blade, bottle and tin opener. It's very handy and you're guaranteed to use it whilst away at some point.  They can be quite expensive but don't buy too cheap as it wont last.
Camera Rucksack:

This is an essential piece of equipment if you want to take any of the above away with you. Mine bag is a Lowepro Fastpack 250 (cost around £60), and is a mixed use rucksack, with a bottom compartment for the camera plus three lenses and a flash. The front pockets provide additional storage for filters, memory cards and leads.
The top compartment is for general storage use, and features a side water bottle holder plus a padded laptop pocket that's large enough for a 15" model.
This is perfect for all my requirements; it's a high quality rucksack and is very reasonably priced in comparison to other bags on the market. However, the very keen professional travel photographer may requirement a more specialist camera bag for the many camera bodies and lenses that they will want to use.
Rucksack:
For city breaks I generally take my trusty rigid suitcase, but for all other travels I take with me my Wynnster Scorpion 85 litre backpack. I've had it for 11 years and its travelled with me all over the world. From recent research I don't think these rucksacks are actually in production any more, which is a real shame as the quality of this bag is fantastic.
When choosing one, expect to pay at least £100, and keep in mind the following:
– Ensure the bag is waterproof, or at the very least includes a concealed waterproof cover.
– Straps are padded, including the waist straps.
– All zip pockets should include locks, or at least allow for a padlock to be attached.
– Make sure you get the right size. Not too big, but also not too small. Mine is 85 litres which is plenty big enough, and my wife actually manages quite fine with a 65 litre rucksack.
Luggage Weight:
This is one of the best gadgets I have. If you like to purchase various souvenirs then it's unlikely your bag is going to weigh the same on the way home as it did on the way out. Airlines are becoming increasingly strict on luggage allowances. Plus when travelling between countries, different airlines have different weight restrictions, so you don't want to be caught out and pay extortionate airport fees.
Simply attached this gadget to you luggage handle, lift, and read the weight on the LED screen. Far easier than trying to balance a bag on a set of weighing scales and trying to read the weight!
Some versions of these also include concealed tape measures, but be warned that if you take this through in your hand luggage, security are likely to take it off you (as I found out!).