How many times have you turned up to a holiday destination, and the hotel room or the swimming pool are not quite as they appeared in the brochure? The picturesque view on which you based your decision to go there in the first place is actually the only good view in the surrounding area. Well fear not, the Maldives is a place which more than lives up to expectations. It really is as amazing as the travel agents photos suggest.
I would highly recommend the Maldives for anyone looking for a slice of true paradise. The pristine white beaches, spectacular blue waters, and tropical foliage provide the setting for an amazing getaway.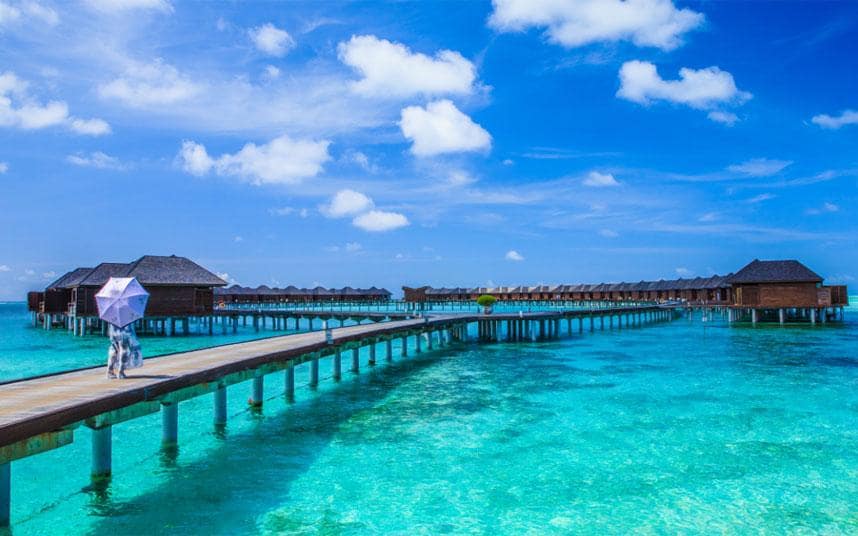 Sitting on the balcony of our water villa, watching the sunrise is certainly one of my travel highlights. Never before have I experienced such tranquility. Complete silence and nothing else in view except for the vast ocean and flat horizon meeting the stunning sky.
It was impossible to walk from the beach back to our water villa without seeing either a stingray, manta ray or reef shark casually swim by. The crystal clear waters make it easy to spot them. One of the most awe-inspiring moments was returning one evening and sitting at the bottom of our steps at the waters edge. The water was lit by a lamp to the underside of the villa, and provided a theatre style spotlight into the sea. The villa piles are submerged in only about 1m of water, so seeing the passing sea life was not difficult. As we sat patiently waiting, a huge stingray turned up, and decided to have a rest right beneath us. It stayed there for about ten minutes, and we just sat there in silence watching it. Amazing!
Resort Types
As with anything, there are different levels of luxury. Generally resorts are either 4* or 5*. The benefit with the 4* is that most resorts offer all-inclusive (AI) packages, as well as half board options, whereas most 5* places didn't do the AI option. We went AI, and I would thoroughly recommend it. I probably would have cried if I'd had to pay $8 every time I wanted a beer or rum and coke!
Room types tend to vary from the cheaper beachfront villas, to the water villas, and then to honeymoon villas with hot tubs and private pools for the ultimate secluded retreat.
If you get itchy feet, and cannot lie in the sun all day, then make sure your resort has activities for you, such as kayaking, snorkeling, diving, snooker, and day trips.
From the UK the Maldives islands are a 12hour trip, so why not break up the journey with a stopover in Dubai?