Imagine a young and hip girl, dancing through the world with her head full of crazy ideas. If the girl would be a city it would be called Barcelona.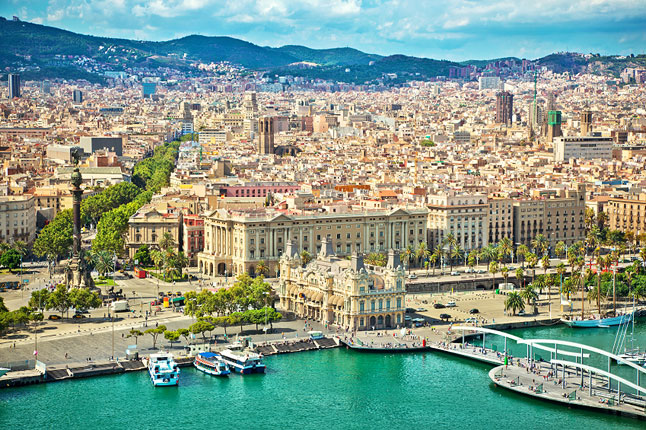 The Las Ramblas area is very busy again. The slightly increasing hill is happily filled with flashy street artists and colourful flower markets. Bird salespeople rather loudly offer their singing produce, while those who are interested or not so interested take a closer look. Tourists continue to walk up the hill straight to the end of the wide alley: everyone wants to take a sip of water from the "Font de Canaletes" fountain, where you definitely will lose your heart to Barcelona and always come back. At least that's what the legend says.
After Franco's death in 1975 no one imagined that Barcelona would untie its knots to become a vibrant metropolitan. Today, 41 years later, the exciting scene is breathtaking; Catalonians celebrate street parties openly like there is no tomorrow and exchange students follow the route of Antonio Gaudís. Barcelona is art and culture. Barcelona is a lovely revolutionary who explores new shores without losing traditions.
ACT LIKE A LOCAL
In exiting Barcelona, there are not many faux pas tourists can make and you don't need to worry about your money or life. In the inner city, you can move safely and freely day and night. The only exception is the small alley of El Raval. During the night you, should be careful and not openly display that you are carrying money. Furthermore, in Las Ramblas you need to hold on to your handbag – but you probably guessed that yourself! If you like to travel like a local, then cruise the city on a scooter, which is the most favourite and agile way of transport according to the locals.
What to SEE?
LAS RAMBLAS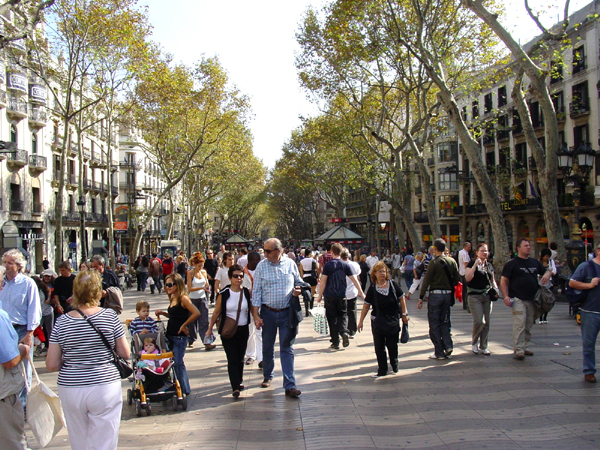 We can guarantee you this – on this walk, you won't be able to relax at all. The Rambla is the shopping street of Barcelona and very busy indeed. You can find anything but tranquillity on the street. Start your walk at the seafront. You will find many souvenir and postcard shops.
Continuing this way, you'll meet the artists that paint tourists and tourist traps. Afterwards, you'll get to the flower stands and the sad small animals in cages that hope to be purchased and released by someone who takes pity on them. You'll be entertained by pantomimes, musicians and dancers.
You can easily spend and lose your money on Rambla and that not only by your own free will – so be careful. Tip: Rambla is a must, however bring little cash and certainly don't bring your favourite handbag along.
PLACA REIAL
The nice side of Place Reial is that you just can't get it under control. In this square, the Catalonian joy of life is celebrated day and night.
It can become rather noisy here and only recently the locals took to the streets with huge posters to stop the noise at night. Admittedly, they weren't very successful. It is still rather noisy but somehow the sound has become nicer. The street musicians need to proof in a casting that they are actually able to play before they are allowed to perform on the square.
Drug dealers have disappeared as police officers take more frequent walks through the square. In other words, be it day or night, a coffee or a beer on one of the many terraces is always worthwhile.
EL RAVAL
The times where El Raval was avoided are definitely over. In previous times, there were many cheap and cheap-looking apartments that immigrants used to start off their lives abroad.
Today musicians, sprayers and artists have discovered the beauty of the darkness that surrounds this area. As an example, the mestizo sound of Manu Chao was born here. After the opening of the three temples for contemporary art MACBA, CCCB and FAD, the area was upgraded and turned into a hot spot for tourists, creative and trendy people. Meanwhile, there are many trendy and hip bars and restaurants.
Nevertheless, there are still some dodgy people, cheap restaurants and 24-hour shops that keep the area exiting and trendy. Tip: avoid the side alleys especially at night and if you are dressed smart.
PARK GÜELL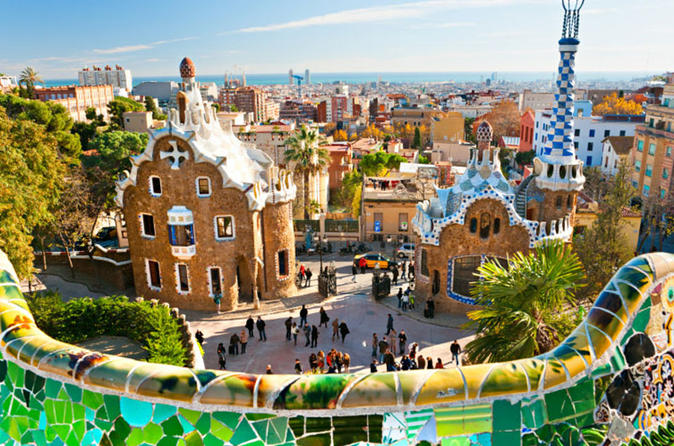 Park Güell is very untypical for a popular attractions point for tourist as there are no costs, no waiting time and endless room to enjoy nature and culture.
You should be thankful to Eusebi Güell that you can enjoy a beautiful afternoon in this park. The son of a wealthy Barcelonan family wished for a large leisure oasis, where Antonio Gaudí actively contributed the art displayed in the park.
Gaudi in fact was so enthusiastic about the idea that even when the city decided to stop the work in 1914, he continued to further develop the park on his own. The result is an amazing mix of nature and art. One can spend hours at the park in peace. The only spot where you could potentially find a crowd of people is in front Gaudí's most impressive building.
LA MERCÈ FESTIVAL

One of the most important events taking place every year is the La Mercè, which attracts about 2 million visitors. The party, which first took place in 1902, is held in honour and as a celebration of Barcelona's patron, Mare de Deu de la Merce and people enjoy a party on the streets.
It is the biggest street party that you will ever see that sends off summer and welcomes in autumn. A highlight of the programme is the crazy fireworks called Correfoc during which the audience is attacked by wild savage devils with sparking candles. If you like to experience a Correfoc event, then you should wear sun glasses and a hat for protection. Alternatively try the children Correfoc early in the evening.
The human towers (Castellers) at the Placa de Jaume are also worth seeing. At the top of the tower stands very brave child. Just go with the crowd. There are more than one hundred places offering music, culture and parades. The date for this year is not confirmed yet but this festival almost always takes place at the end of September.
BAC! BARCELONA INTERNATIONAL FESTIVAL OF CONTEMPORARY ART

Barcelona is all about contemporary art, especially from December through to January. At the BAC! festival everything goes as long as it looks good and is art. Examples include graphite, objects, sculptures, photography, painting and video art.
The participating artists are international and their work is exhibited all over town in galleries and public spaces. The works are connected through a common theme that changes every year. The exact programme is constantly being updated and is published on their website.
PICASSO MUSEUM

Yes, in Barcelona everyone knows what good looks like. Before Picasso's art was recognised in Paris, he celebrated first successes in Barcelona and built inspiring friendships with other artists. The museum is a must-visit for Picasso fans, while the building itself is very beautiful dating from the Middle Ages.
Some of Picasso's early work up until the famous blue and pink periods as well as the studies of to 'Las Meninas' are exhibited here. The first attempts of the young Picasso are so fascinating and are bear witness of the genius that was lurking from within: at just 15 years of age, the artist created a huge oil painting of impressive realism.
PORT OLIMPIC

Rule of thumb for travellers: if a city has a harbour then you must pay it a visit. Barcelona's Port Olympic was built in 1992 for the Olympic Games and today is one of the most beautiful places of the seaside metropolis.
During the day, the area revolves around shopping. Once you had enough of the shops, you can enjoy a boat trip to take a look at the city from the sea. In the evening, the nightlife on the harbour is just legendary. The area is full of restaurants, bars and clubs. The fascinating scenery includes the twin towers of Mapfre Tower and Hotel Arts Barcelona.
Highlights: A walk to the beach of Barceloneta and the view of the over-dimensional Fish-Sculpture by Frank O. Gehry.
PARC DE LA CIUTADELLA

If you are hanging out at the park of La Ciutadella, you will forget that you are actually in a city. A small lake ideal for canoeing, a grotesque fountain that Gaudi co-created and endless peace. Barcelonans love this green centre of tranquillity that is situated where once stood the citadel of Felipe V.
The park was opened in 1870 and hosted the world exhibition in 1888. Today, the museum exhibits modern art and there is also a zoo. A bizarre piece of trivia is that they used to use parrots to keep away the pigeons. Today, no pigeon can be found in proximity of this park. However, the parrots with their green feathers are numerous and cheeky, flying from one palm tree to the next and back.
GRACIA

A visit to the Gracia district is something you should not miss on your return to Barcelona. First-time visitors are spoilt with such a big choice of sights that they usually do not have the time to visit this district, as it's not central. Gracia was an independent village until 1898 and has managed to keep its character ever since.
The inhabitants celebrate Catalonian lifestyle with all its colourful parties. In small chaotic alleys, you'll find old houses that are partially damaged, but nobody seems concerned. On the contrary, the area attracts artists and students with low rents. An alternative scene has developed that even occupies houses. Enjoy a beer or glass of wine on one of the squares: the ambience and relaxed atmosphere as well as the guests are incredible.
CASA MILÀ

Antonio Gaudí has left his characteristic footprint on many squares of the city. Give the eternal Sagrada family, where most tourists tend to queue for an eternity, a miss if you are short on time.
Casa Milà, on the other hand, is a must-see. The building, which houses several apartments and business locations, was built between 1906 and1910, but still feels contemporary and modern. The fascinating building surprises with its stretching metal fence and sinuous balconies. The best part is the walk over the roof terrace.
The bizarre and often photographed figures can be visited at midnight during the summer months. The walk on the roof and the view of the city at night are just unique.
Where to Eat in Barcelona?
ANTIC BOCOI DEL GÒTIC
One should not give away a secret like this, but we are doing it anyway. Book a table at the Antic Bocoi del Gòtic and have a real taste of authentic Catalonian food (a reservation is essential!).
The traditional ambience is underlined by a piece of city wall that is part of the restaurant. It is best if you take a look at this highlight first. As soon as your stockfish or the typical 'coca', which is a very fine pizza, are served, you will forget about the impressive wall.
VENUS DELICATESSEN
Vegetarians in Barcelona do not have a particularly difficult life. However, if you don't want to order what's the only vegetarian dish left on the menu but would like to have a choice from an entire menu, you should pay a visit to Venus Delicatessen. Every now and then you'll find a meat dish on their menu, but that is rather an exception.
From Bulgur with vegetables to meatless lasagne – everything tastes so wonderful at Venus. In fact even your non-vegetarian friends will be happy to eat here. Additionally this is a perfect spot to watch the world go by as the entire window wall can be fully opened.
CA L'ISIDRE
Ca l'Isidre is considered to be one of the best restaurants in town and not only since, in 1986, HRH King Juan Carlos and his spouse HRH Queen Sophia celebrated their 23rd wedding anniversary here. This true Catalonian kitchen, which has very little French influence, will allow you an extraordinary gourmet experience.
The menu changes every day, as owner Isidre Gironés pays a visit to the market and evaluates its offerings. He then decides what will be put on the menu that day. There is a huge selection of great wines which go along very well with your gazpacho, sea bass, scampi or turbot.
SILENUS
Silenus is a meeting point for artists and intellectual of the city to enjoy an extraordinary dinner. The restaurant hides behind a Jugendstil door and combines the comforts of a coffee house with an excellent gourmet kitchen.
The creativity of the Raval area is mirrored in the beautiful food served in this place. Tip: Even though it tastes extraordinarily, make sure you leave some room for dessert. Every single item is a small piece of art that will that will lift you into chocolate heaven.
Where to shop in Barcelona?
JULIE SOHN

To be honest, this has nothing to do with Catalonian and not even with Spanish fashion. However you should still pay a visit to the store of the Korean fashion designer Julie Sohn if you are doing a shopping trip.
The store is very Asian with its little bit of Zen, little bit of Feng Shui but also a touch of cool New York style. The mix makes it somehow perfect and distracts you briefly from the fashion items presented. This is no surprise as the interior design of this shop has won an award.
The fashion also deserves an award: discrete and simple, but never boring and always stylish.
ZSU-ZSA

Maria Pascuali and Monica Howe are two fashion designers based in Barcelona that gave Zsu-Zsa their ideas in the shape of young and exclusive fashion designs. One cannot describe their style, as both designers don't want to rely on a specific line or seasonal trend.
One finds inspiration on the streets, in music, art, architecture and photography. The great thing about Zsu-Zsa is that these desirable items are affordable – especially in the sale.
CUSTO BARCELONA

Probably the most famous fashion export Barcelona's is mainly one thing: colourful. The eye-catching prints are recognised by everyone who has seen them once. Famous people like Penelope Cruz, Antonio Banderas and Julia Roberts helped the brand gain international fame.
Nevertheless, Custo's flagship stores are a rarity in Europe. Take the opportunity to shop in one of the three Custo shops in Barcelona and your friends back home will envy your purchases for sure.
Where to stay in Barcelona?
SUITES AVENUE
Architect Toyo Ito did a fine job: an exclusive front hides 30 very exclusive suites in the middle of Barcelona. There is a mix of Jugendstil elements and brand new contemporary designs of the 21st century.
The luxury accommodation has a kitchen, one bedroom and a bathroom. The kitchen is fully equipped, featuring everything from a bottle opener to a wine refrigerator. The windows are huge and let plenty of daylight into the apartments and have a view to the typical Catalonian inner courtyard.
Double rooms are available from Euro 165 per night.
THE FIVE ROOMS

Yessica had to have this apartment. But because of its 400 square metres, it was just a little too big for one person and so she decided to transform it into a small hotel. How you do that? You take 5 large rooms, furbish them stylishly and wait until a traveller magazine mentions it alongside the luxury hotels of the city.
If you are staying at Yessica, it is like you are staying with a friend who is happy to provide you with all kinds of insider tips that you won't find in any guide book.
Double rooms are available from Euro 135 per night.
GRAN HOTEL LA FLORIDA
Don't be scared off by the name: If in the morning, you don't remember whether you are staying in a hotel or a castle, then you are in the La Florida. The grand hotel does not hold back with luxury and has been the accommodation of choice for the rich and beautiful.
Service and rooms are top class since the early 20th century. A highlight is the generous private terrace that provides great views of the city. In addition, you'll have a beautiful spa area for relaxing.
Double rooms are available from Euro 227 per night.