HAVE YOU STOPPED MARVELLING AND STARTED SHOPPING?
A light-flooded summer dream or a cozy winter fairy tale: Stockholm's Old Town with its orange, red and yellow houses makes such an enchanted impression that you would almost expect to see trolls and elves pop up out of nowhere.
But they would not be as sinister as in the fairy tales – their cave would be furnished with a Billy shelf and they would be dressed in Fillipa K's best! Myths and legends are now history.  The Swedes are busy creating the next tend – and act as an example for all of Europe.  A basis for Stockholm-Syndrome. They break new ground in fashion and furniture design. They are child-friendly, emancipated and social conscious.  Also exemplary is their openness, tolerance and their environmental awareness. Are they too good to be true? Maybe, but Stockholm shapes the world its way and the rest of us can only watch and marvel – at one of the cleanest large cities in the  world; at the small boutiques and big labels; at over 24,000 small islands – and at a city that is completely free of heavy industry. Kurt Tucholsky encapsulated the magic of the city with the following words: "Stockholm is beautiful. Seaside cities are always beautiful."
FROM THE AIRPORT INTO TOWN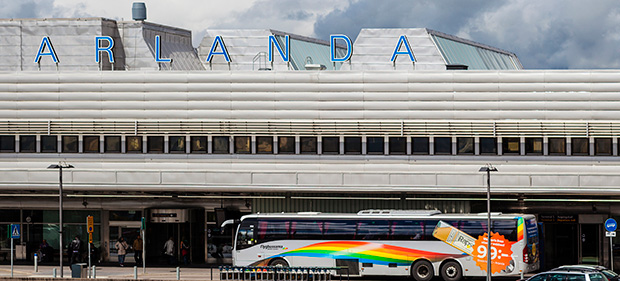 The international airport of Arlanda is situated approx. 40 km north of the city. A high-speed train (Arlanda Express) departs for Stockholm every 15 minutes. Journey time: 20 minutes. There is also a transfer bus which takes approx. 40 minutes and costs around €13.
GETTING AROUND IN STOCKHOLM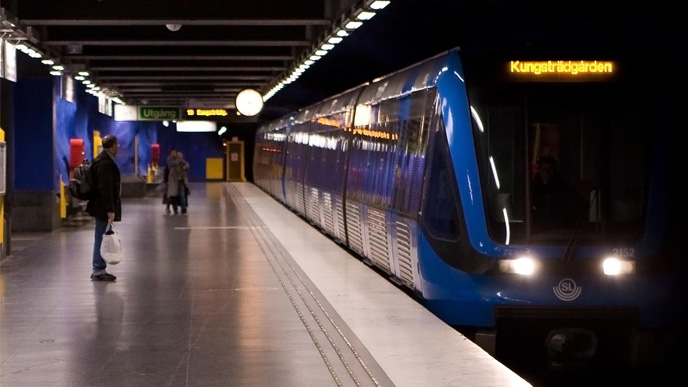 Three underground lines (Tunnelbana) criss-cross the city, which is also served by buses, commuter trains (Pendeltåg) and a historic tram (no 7). The price for a 24-hour ticket is €10.30, with a reduction for seniors and teenagers under the age of 20. Motion and water go hand-in-hand for Stockholmers – be it viewing the harbour from a boat, navigating a canoe in between the Schärengartens or drawing circles onto the frozen surface of Lake Mälar with ice-skates in winter.
QUIET PLEASE! DO NOT JUMP THE QUEUE, DO NOT YAWN.
Some words of advice to visitors. While fashion and design may be to the forefront, the man on the street is by no means flashy. Raising your voice in a restaurant or pub is considered to be impolite. Be aware of the behaviour of groups of people around you – you will notice that nobody takes centre-stage; nobody acts as a solo entertainer. Friends of grand gestures will feel more at home in Italy! In Stockholm food is served with still water. The Swedish tick differently. Beware of the game of light and dark. While in winter the streets of Stockholm are dark, there is no escaping the sun in the summer – it lights up the city for 20 hours a day. It can throw your body clock.
If you have just arrived and want to quickly call into the bank, follow these simple rules. Draw a number and join the queue – never step out of line. In Stockholm, jumping the queue is simply considered anti-social, irrespective of whether or not you are in a hurry. Huff impatiently and everyone will know you are a tourist, so stay calm – and please stop checking your watch!
WHAT TO SEE?
ACTIONEERS AUKTIONSVERK
It's hard to believe but Auktionsverk has been auctioning items off since 1647, when baroque was actually still contemporary art. Welcome to the oldest auctioneers in the world, which has even seen a circus go under the hammer. If you are after that kind of investment be aware of your weight allowance – and know that customs don't like clowns!
But maybe you would like to bid on one of the other 2,500 items that are for auction every week – a teddy like your grandma's, an antique pocket watch or the original manuscript of Pippi's story. You can also get a bargain as long as you can manage to keep your hands under control.
STOCKHOLM JAZZ FESTIVAL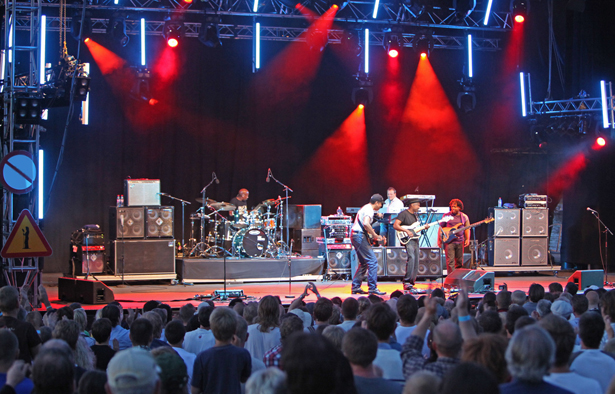 Step onto the grounds and stare in awe. You are stepping into the territory of Ella Fitzgerald, BB King and Dexter Gordon. Are you sure you are up to the challenge? It may be hard to beat them, although Avishai Cohen, China Moses and Courtney Pine will try their best. Also, Steve Gadd is down for a drumming session and he has already played with Joe Coker. Did I see a shrug of the shoulder? Well, let me recommend Wayne Shorter to you, he has six Grammys for a reason!
Why all these music legends undertake a pilgrimage to the Stockholm Jazz Festival is easy to explain – it's not only the oldest festival in Sweden, but the setting on the beautiful island of Skeppsholmen makes for a great atmosphere Trust us, in between all the jazz and chilling out, you will find yourself looking out to sea.
HAPPENING SOFO NIGHT
Some joker had the great idea of giving the area south of Folkungatan a nickname. So now, it's called SoFo (South of Folkungatan). It is not the small shops, boutiques and restaurants that makes this area special, but the nights, especially the night of the last Thursday at the end of every month. Shops stay open until 9 p.m., beer is free and there are alot of other special offers.
The only danger is that the combination of free beer and late-night shopping may have a worrying impact on your finances. You will know you have gone wrong somewhere down the line if you wake up with a heavy head and a mountain of new clothes after a night in Sofo. A Sofo night is a must for everyone, not only for fashionistas. The quarter is alive and hopping like an espresso. Everyone is out on the streets for the big happening.
STOCKHOLM BEER & WHISKEY FESTIVAL
Whiskey after beer, never fear. Beer after Whiskey –ah it doesn't matter because you will get both of it together at the annual Stockholm Beer & Whiskey Festival. Make sure you have eaten well before you arrive because if you haven't allowed for appropriate soakage you may as well throw away your car keys.
Of course this event is extremely popular – it's a free tasting event after all and you don't get to get drunk for free every day. If you are a connoisseur you can abide by the rules of swilling and spitting, you can get a proper consultation and have a tutor guide you. If you are truly interested in the trends of tomorrow, also watch the prize-giving where the pros fight over the titles for best lager, best white beer and the best beer of Sweden.
Do you remember what you did with those car keys? We recommend you make use of the transport service offered and get a driver to taxi you home.
AWARDING OF THE NOBEL PRICE
Pure dynamite: Nobel may have invented the explosive, but today, it is all about the Nobel Peace Prize. This may sound a little absurd until you look at the former recipients, Barrack Obama in 2009, Al Gore, Nelson Mandela and the Dalai Lama.
The other categories are interesting too. Physics (Albert Einstein, Max Planck, Erwin Schrödinger), literature (Thomas Mann, Heinrich Böll, Jean-Paul Sartre – and last but not least Elfriede Jelinek), chemistry (Marie Curie) and economics and medicine. Enough namedropping – the big event takes place annually on the 10th of December but don't count on an invite.
Not that it matters really when you can join the science groupies outside the concert hall and get a glimpse of those celebrities that are about to make history.
10 SWEDISH DESIGNERS
10 Designers have achieved what cannot be done alone, combining their various textile designs under one roof. The result is a shop just as creative as its owners, featuring a variety of wallpapers, fabrics, ironing boards and toiletry bags –all embellished with colourful printed dots, waves and lines. The group do everything themselves – from drafting up a new design to marketing it. Have you spotted a design that looks familiar?
It is possible. Two of the designers have already done work for IKEA. Not that you should be put off by that. The work is regularly exhibited and, in autumn 2010, the group hostinged a workshop at the Dunkers Kulturhaus as part of the PATTERN POWER! Event. There you were able to create your own designs. Just grabbing a pair of scissors and learning from the pros. Word has it that dots and waves are particularly en vogue this year.
DESIGNED OBJECTS AT DESIGNTORGET
Picture this,you walk into a shop, pick up an item and you do not have the slightest idea what it is meant to be. This could easily happen to you at Designtorget. Well, thankfully a doormat is still a doormat even here, but not all items are as easy to recognize. The hanging drink's holder, for instance – or this red, banana-shaped, plastic item whatever it may be. Particularly well disguised is the doorstopper that looks distinctly like a bottle opener.
Nonetheless, if you want to have a piece of design that's in tomorrow, you should go shopping at Designtorget today. Be assured that anything you get your hands on will be seriously trendy – and all the other shoppers are just as confused as you are about some of the items, just look around you. The Swedish are just better at pretending to be in the know. That banana – well, it turns out to be a snack box to fit, well, a banana.
SVENSKT TENN DESIGNERMÖBEL
There are some mad patterns on everything that Designer Josef Frank has created for us. But if you want to pep up your walls, you cannot go wrong with the flowery patterned couch, the trendy floor lamps and the tables made of walnut. You may however have to book an extra seat on your return flight to bring it all back home!
If you don't want to do that, the solution is to stick to smaller items such as the stainless steel candle holder or the glass plate with the platinum frame. The cork with the lions head is also bound to be a big hit at every party. The main thing is that you paint your walls white before you come here. And the ceiling. And while you're at it, do the floors as well. Why, you ask? Well, because Josef Frank's furniture is not only heavily patterned but also very colourful. So if you don't want to end up blinded by colour create a blank white canvas.
CONCEPT STORE FILIPPA K.
Timeless elegance, minimalist shapes, no big fuss. Filippa K is one of the hippest labels on the international catwalk. Since 1993, Filippa Knutsson has stayed well clear of the pretentious glamour that her competition are designing and has instead focused on simple, wearable fashion paired with just the right amount of urban style.
14 concept stores await the next fashion prone victim – and they will be tempted to buy. The clothes are a feast for the eye, they draw attention– if you leave empty-handed, you don't quite get fashion.
DESIGNSHOP BLACK MARKET
Don't worry. You won't get into trouble with customs if you shop here. Looking at the entrance to the underground shop, you may expect dark corners and open boots, but once you get downstairs, things quickly become clear. The shop, which has a distinct industrial design, sells labels such as Bernhard Willhelm, P.A.M., Gasius and Stussy – and it is all legal.
Opened in 2007 the shop quickly rose to national fame. It was crowned the "hero of Stockholm" by Dagens Nyheter. The international press are euphoric and so are we. Black market deals with classy labels in an arty setting without appearing all too la-di-da. It will burn a hole in your wallet, of course, but at least it will be pretty.
MODELABEL CARIN WESTER
From New York to Stockholm, Carin Wester is an insider tip for fashion aficionados. Her lines are clear. Flowing clothes, playful skirts and one or two tight trousers. Less is more, that's the main thing. At the lovingly decorated shop you can buy everything from a Wester shirt to a trendy Wester T-shirt.
Additionally you will find quirky shoes and a handful magazines from the New York opening. If you prefer orient instead of occident, you should not give this label a miss. The advantage is that it fits even the relaxed tummy, no need to hold in your breath.
STREETWEAR MONKEY BIZZ
Streetwear for cool kids. With a T-shirt from Monkey Bizz, you will be the business on the streets. Nothing to be ashamed of or embarrassed about. The generation 2.0 fashion will raise the bar for grown-ups with its caps, hats and scarves for trendy winter days.
Show up in one of these labels and you will be the next party highlight: Mishka, Pegleg, Rockers, Tokion. The themes? Stylish, crazy, wicked. A whole lot of monkey business? No, the pure culture of youth fashion. Monkey Bizz.
BOUTIQUE PAUL & FRIENDS
The treasures of Paul & Friends' display cabinet will make shoe maniacs drool and instantly activate their credit cards. Prada, Pucci, Helmut Lang all stand proudly together, their straps winking lustfully in your direction.
If you find it hard to make a decision just ask yourself one question, what would Carrie Bradshaw do? Exactly! And why not? Only expensive shoes match an expensive place like Östermalm – even if your better half thinks you have lost the plot. So off with your shoes, go crazy and if you haven't reached your credit card limit by the end of it all, add a pair of sunglasses to the pile.
BOUTIQUE TJALLAMALLA
The shop is as marvelous as its clients. Only the top elite of fashionistas shop at Tjallamalla. And rightly so. People who step into this boutique are unrivalled in the style stakes. If you don't want to stand out amongst this type of clientele, make sure you look the business before you even start mingling.
Sure, you can find well-known designers like Acne Jeans and Ivana Helsinki here, but there are also those young wild designers who will make a break-through tomorrow but are still cheap today. The only downside to Tjallamalla is that it gets packed on the weekend. There are only three changing rooms so they are particularly busy. Those bound to you by marital law should expect a lengthy wait. However, if you can manage the wait, have a look at the shoes. Or bags. Or earrings. There is plenty to do.
LOVESTORE
You think you know it all? Let us recommend Lovestory to you. You will soon know even more. Even prudish people are now aware of the existence of eatable underwear, but have you tried condom royal, the king of all condoms. Or heard of penis-pasta? Variety is key. At Lovestory, you will find lots of fun things, but nothing tatty. If you are the literary type, there is plenty of reading material for you. If you are more practical, then take home some massage oil.
The days when you had to secretly sneak into shops like these with your collar up to hide your face are long over. Today, you can walk in with your head held high and you are bound to leave with a smile on your face. A word of advice: it may pay off taking your other half with you – so you don't freak him out when you show up at home dressed in latex!