Most people tend to go on holiday to get away from it all. Whether is a water villa in the Maldives or a caravan in Wales, the objective is the same; to unwind, spend time with friends and family, and forget about the daily grind. And that's exactly what's it's all about.
When I go away for a short period, I don't take a laptop. What's the point? People who 'brag' about checking work emails when on holiday are not big or clever, they're missing the whole point. They may physically be on holiday, but their minds won't be, which defeats the purpose of going away.
Anyway, I'm starting to rant about a completely separate issue, so below is a list of travel equipment that I use:
Laptop:

As I said, I will only take a laptop away with me if I'm off for long periods of time. I own a Macbook Pro and absolutely love it. My Retina version is ultra-thin and ultra-fast, and is perfect for travelling without taking up too much room, sliding perfectly into the back of my camera bag. It's great for blogging, downloading/editing photos and watching TV/movies………just make sure you turn off any work email accounts if you do take a laptop!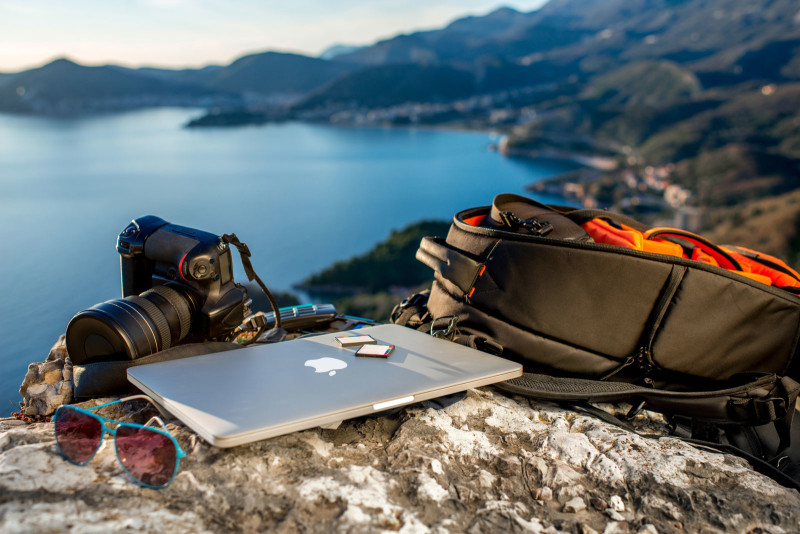 Laptop Cover:
A laptop cover is essential for projecting one of the most expensive pieces of personal equipment that you'll probably own, so you need to look after it when on the move. Recently I found a great cover from a company in Utah of all places. Its made from a heavy duty and undyed hemp basket weave canvas, and lined with a very soft recycled polyester fleece. Quite a unique, funky urban eco-friendly accessory.
A DLSR Camera:

A good quality camera is vital for capturing all of those travelling moments. Thanks to the digital age, such cameras are available for the fraction of the price they were a few years ago, and will provide even the most novice of users will exceptional images.
Personally I use the Canon 7D, an exceptional solid camera that feels great to hold, and takes amazing pictures. The depth of field is brilliant. If you're keen to take great travel photos then I'd recommend purchasing some additional lenses.
These aren't cheap, but I've purchased all mine secondhand to help justify the costs and have no issues with them. I take away with me my EFS 17-55mm lens for normal use, a 10-22mm wide-angle lens for landscapes and architecture, and my EF zoom lenses (70-200mm and 100-400mm, although the latter I only take when I know I'll photograph wildlife as it's a rather heavy lens). Read More …